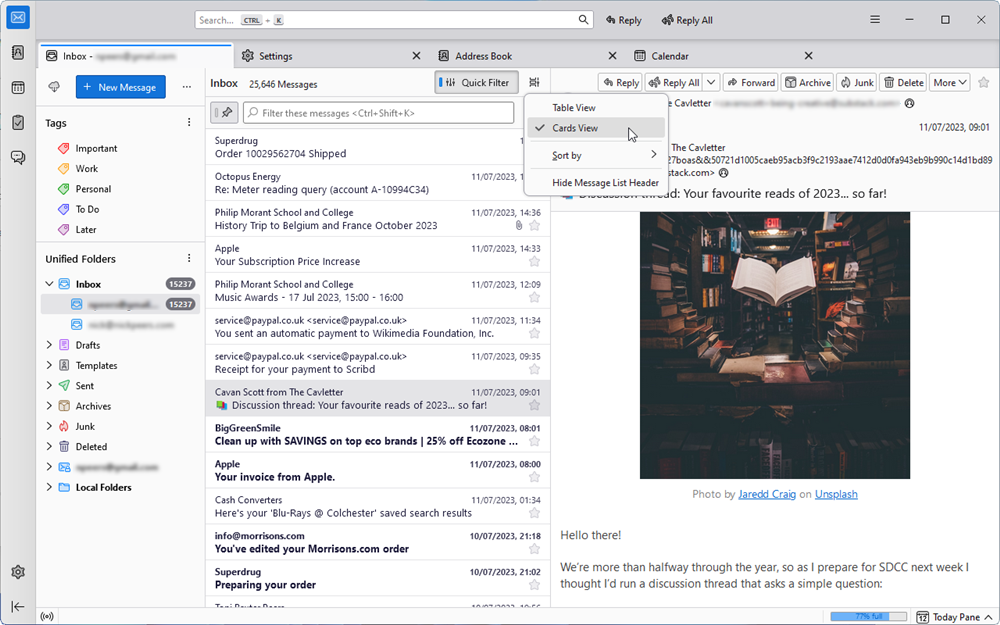 Install and Configure Desktop Apps
In many circumstances, you can't run all the software you need as a web application, so you'll need a few desktop and mobile applications. In particular, I recommend installing the following desktop apps:
Thunderbird (desktop email, calendar and contacts)
Thunderbird is the default mail software for most Linux distributions and can easily be downloaded for Windows or Mac from the Thunderbird website. When you first start Thunderbird, it will guide you through a simple email setup for your Open Source I.T. domain. By clicking on the Thunderbird "Add-ons" menu item, you can install "Lightening", the defacto calendar and scheduling plugin for Thunderbird, as well as 1"CardBook" to manage your contacts. You can find a bunch of other great open source software plugins for Thunderbird in the add-ons directory, as well. "Shrunked Image Resizer" is handy for automatically reducing attached image sizes, for example.2 Unfortunately, recent versions of Thunderbird have broken backwards-compatibility with many add-ons, so the directory isn't as rich as it used to be.
You can connect your contacts and calendar to Nextcloud according to the following guide: https://docs.nextcloud.com/server/latest/user_manual/en/pim/sync_thunderbird.html You may need to un-check "Local Address Books" from the "Preferences > Composition > Addressing" settings page in Thunderbird in order for email composition to use auto-complete from CardBook.
NOTE: If you have existing contact lists that you are trying to import to Nextcloud, you may need to create groups in Nextcloud with the exact same name as your contact lists in order for these lists to be preserved.
UPDATE 2/28/2021: The latest TB integration guide for Thunderbird now uses TBSync, but I still recommend using this with CardBook, since TBSync (and its extensions) don't seem to manage contact lists as well. CardBook can also be a little quirky, though – such as some contact lists not showing up in the auto-complete drop-down, but they still autocomplete when you type in the list name and hit tab. Also, the Provider For Google Calendar plugin now appears to be broken and a manual process for integrating Google CalDAV appears to be the best method for adding Google calendars ATM: https://github.com/kewisch/gdata-provider/issues/63#issuecomment-759424469
UPDATE 12/27/2021: Thunderbird 91.3 has a fancy new email/calendar wizard that exposes Google calendars without requiring a plugin
Once you have set up all your accounts and configured plugins (and mail filters) to your liking, you may want to back up your TB profile, in case you need to set things up again on a different computer. You can find out the location of your TB profile by going to "Help > More Troubleshooting Information" the the TB main menu and clicking the "Open Directory" button. I prefer to actually make that directory a symbolic link in my NextCloud file-sync so it is always backed up.
KeepassXC (password management)
While Nextcloud offers a very convenient Passwords app, I can't recommend it, out of principle. Since remote password management systems have the ability to decrypt passwords in order to provide them back to your computer, they increase the possible attack area for your passwords to be intercepted. Using a desktop app as the authority for decrypting your passwords keeps you safer in your own computing "burrow" – and adding two-factor authentication (2FA) will keep your passwords about as safe as you can get. That is, of course, if your passwords themselves are strong passwords – either long random strings (that KeepassXC can generate for you), or at least long mnemonic strings (like the Bruce Schneier method).
If you already have a lot of data you want to sync, be prepared for this to take a while, possibly several days, depending on your upload bandwidth and the amount of data.
Install and Configure Mobile Apps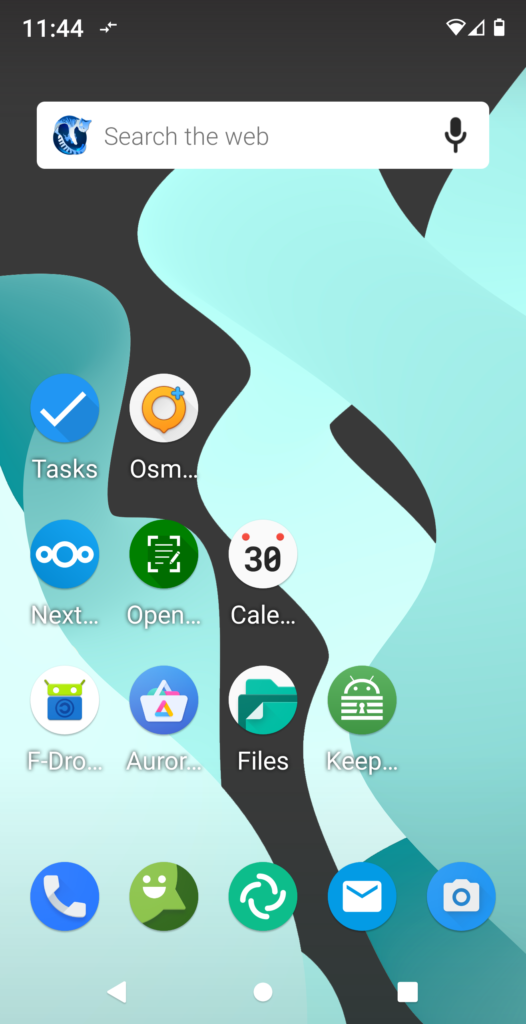 The following mobile apps are for Android. While the Nextcloud apps also have iOS versions, I'm not sure what the open source equivalents are for the rest. Apple is not an open source friendly company.
Primary Productivity Apps
More Open Source Fun
F-Droid (free/ open-source software catalog/installer)
OsmAnd (an on and off-line mapping application for driving directions, etc.)
OpenCamera
Open Note Scanner
IceCat (browser)
Limitations
Unfortunately you may run into some issues if you are using U2F and NFC for logins, depending on your phone, OS and browser. A non-free combination I currently have working on my Pixel 3/ LineageOS device is Chrome + Google Authenticator. 🙁